Recent Media Appearances:
---
MSNBC Interview
Watch Dr. Cantor's interview with Chuck Todd and Savannah Guthrie on MSNBC:
---
APPEARANCE ON THE BIG TEN NETWORK'S "OFFICE HOURS"
Multi-tasking Meltdown
. Joanne Cantor talks about how our brains actually perform worse when they are confronted with multiple tasks.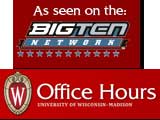 ---
Appearance on Wisconsin Public Radio's Larry Meiller show
Dr. Cantor discusses finding the balance between being plugged-in and unplugged and answers callers' questions on the
Larry Meiller Show
.

---
Interview on carol koby radio show "all about living"
---
APPEARANCE ON "WRITER'S VOICE" RADIO SHOW
Conquering Cyber Overload
.

---
Topical Currents with Joseph Cooper
Topical Currents, with Joseph Cooper, WLRN 91.3 FM, Public Radio for South Florida.