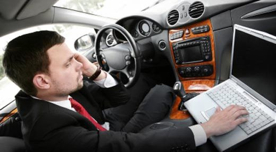 It's been estimated that U.S. businesses lose one-fourth of their employees' productive time because of unnecessary interruptions facilitated by technology.  Some of this is due to "cyberloafing"—employees using their computers for recreation when they're supposed to be working. But even highly motivated employees can find it hard to resist the allure of what's going on in cyberspace when they're trying to be productive.
Whether you're simply trying to achieve more yourself or you're managing other people, you need to understand how digital distractions affect our brains in order to make the most of the time and the talents available to you.
In this eye-opening and down-to-earth presentation, Dr. Cantor demonstrates just how inept your brain is at multitasking and how information overload reduces rather than enhances your creativity.  She also presents easy-to-grasp findings from recent brain research to show that constant connectivity to our devices is antithetical to doing good work. She provides simple strategies for greater effectiveness and a series of easy methods to increase creativity while reducing stress.  She also gives advice on how to set up a work environment that promotes communication between employees while limiting intrusive interruptions.
Learning objectives:
Understanding the new challenges posed by modern technology in the workplace.
Recognizing the disadvantages of multitasking and how to avoid them.
Mastering your interruptions to suit your work rhythms and enhance productivity.
Avoiding information overload to promote creativity, solve problems, and see the "big picture."
Choosing brain-enhancing breaks to work smart rather than putting in long hours.
Designing your techno-environment (including your email and your computer) to limit distractions.
Creating a work environment that supports productivity and creativity while reducing stress and employee burnout.
This presentation is especially helpful to professionals, researchers, other creative types and those who use computers on a regular basis.
Inquire About Booking Dr. Cantor.
What people are saying about "So You Think You Can Multitask":
From Educational Workshop Attendees at a Top U.S. aerospace corporation:

"One of the best courses I have attended. I have no doubt this will help me. Thank You!"

"Looking forward to implementing some of her ideas/suggestions."

"I believe the interaction between the instructor and the audience was very helpful. It really made us pay attention!"

"I can't imagine it being more relevant. It was great!"

"Thanks for promoting a healthier approach to keeping productive."

"Thanks for making this course available since it is easy to suffer from info overload in our environment. It can make a person crazy to try and do too much at once! Thanks for helping me find ways to stay sane."

"One of the best courses I have attended!"

"I think this course should be a mandatory part of our yearly training!!! It was very good and very timely."

"Super presentation."

"Excellent class. By far the best class that I've seen and truly applicable to all of us."

"Very good analogies about brain lock. Great advice of how to focus and then rest over and over."

"Great presentation. Great delivery. Good visuals & metaphorical examples. Very worthwhile."

"Best class I have taken in years. I had no desire to multi-task!!"
From attendees at a national sales meeting for Webcrafters, Inc.:

"Great job! Your timely presentation, tailored to our industry, was very well-received by my staff and our employees.  We are all pleased to have your clear tools on how to be the master, and not the servant of digital technology.  Your presentation is most helpful to people not only on a professional, but also on a personal level."
—Jac Garner, President & CEO, Webcrafters

"Excellent! I plan to try a few tips and pass it on to my daughter who is a constant multitasker."

"Loved it!"

"Very relevant topic! Nice job!"
"It was fabulous!"
—Brenda Toler, Wisconsin Restaurant Association
"You did a great job with an important topic"
—Susan Riseling, Chief of Police/Vice Chancellor, University of Wisconsin-Madison
""This information is very useful and able to be implemented in our type of work — thank you!"
—LeAnn Krieg, Police Communications Supervisor, UW-Madison Police Department"
From attendees at UW Police Leadership Workshop:

"Great topic – Thank you for the work! I was starting to think I was losing my mind! Thank you for letting me know I am not!"

"This was very good. Great information presented in a way I had not thought about it before. I can think of several law enforcement conferences where this would be a good topic for presentation."

"Great topic for agency that stresses multitasking."

"I thought I was good at multitasking. Little did I know … Thanks."
"Love it. Absolutely love it! Employers need critical thinkers and problem solvers. Seems expecting the multi-tasking skills they so fervently seek is counter-productive to positive business outcomes."
—Jane Birtholz, Employer Relations, Lakeshore Technical College
"Thank you for your timely and engaging presentation on "Conquering CyberOverload." Between 80 and 90 biomedical sciences graduate students and postdoctoral fellows attended, and you could tell they were engaged as they participated in your variety of practical exercises in colors, words, and mathematics to illustrate major points. High engagement and interest was also evident from the number of questions and extent of discussion at the end of the session, and from the number of your books that were purchased. In addition, I talked with a number of graduate students and postdocs later in the day, and they mentioned how much they enjoyed your presentation. They mentioned that even though they had been aware of some of the research findings, your practical demonstrations and examples helped them understand and integrate the information very effectively. They appreciated you."
—John P. Lombardo, Ph.D., Career Services, Graduate School of Biomedical Sciences and Postdoctoral Education, Medical College of Wisconsin
"Professor Cantor's presentation on Cyber Overload to the Wisconsin Alumni Club, Green County chapter was everything I hoped it would be. I read her book Conquer CyberOverload and knew she would deliver a great program. She did not disappoint. Her presentation engaged our audience from 50-year alumni to our young scholarship recipients. She even handled an alum who forgot to turn off his cell phone! Well done. I have already recommended Professor Cantor to others as a speaker."
—Dave Mosher, President, Dave Mosher and Associates Insurance Services, and President, Wisconsin Alumni Club, Green County Chapter
Thank you so much for the presentation! It was absolutely amazing. By far the best session I've been to at the conference. This information is so relevant to everyone and I think everyone should be educated on the matter."
—Patrick L. Estes, Student (Psychology and Human Resources), University of Wisconsin-Whitewater
From Attendees at the Institute for Supply Management Professional Development Seminar:

"Great ideas and presentation. The info presented is tremendously useful for today's professional. Thank you!"

"Easy to follow presentation. Materials and metaphors are well executed."

"Understanding information overload is important and you have helped me identify how I am doing it and how to deal with it. I will adjust how I deal with the multiple tasks I have. Also gave me insight into a problem an employee has because of his willingness to be totally available."

"Very interesting concepts and ideas for personal improvement."

"Color intro grabs your attention. Jelly bean analogy was good."

"Very interesting and validating at the same time. Good practical advice/devices for achieving greater mental acuity—low intensity exercise, observation, strategic sleep."

"I could relate to what was said. I agree with all points presented."

"I thoroughly enjoyed your presentation. My job is constant multitasking—constant interruptions, fires to put out…etc…I almost always take a walk (in good weather) on my lunch. I can be very relaxed and ready for the next issue to be handled when I walk in the door. It truly works for me. I've learned more tricks! Thank you!"

"I'm going to put these strategies to work as soon as I get back to the office!"