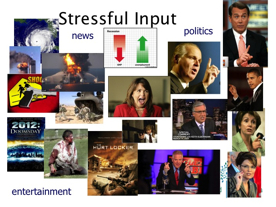 Are your communication habits (from television to Twitter) making you feel more connected and in control—or are they controlling you and stressing you out? Learn how the mind works: How recent research in neurophysiology suggests that the media's impact is more intense and disruptive than you think. Learn how to use this knowledge to reduce stress by managing the digital devices in your life.
In this interactive and entertaining program, attendees learn:
When you watch someone else perform an activity or express an emotion, the circuits in your brain that plan and prepare you to execute that behavior yourself are active.
When you experience intense fear, your brain stores that memory in such a way that years later, reminders of that experience cause you to have that fight-or-flight reaction, even though you consciously know you're safe.
Constant immersion in media repeatedly leads to jarring emotions and unnecessary stress, which have both psychological and physical health consequences.
We can limit these negative effects if we modify our media habits and adopt some serenity-promoting strategies.
Inquire About Booking Dr. Cantor
What People Are Saying About "This Is Your Mind on Media"
"While listening to Joanne Cantor speak about the effects of media on our minds, I found myself sitting on the edge of my seat, fascinated by what she was saying. She delivers information based on solid research in an entertaining and engaging style that educates listeners and encourages new thinking about the barrage of media that influences our lives every day."
—Janet Gietzel, Executive Director, A Fund for Women
"You attracted the largest number of reservations we have had in several years and stimulated some great questions . . . . Well organized and beautifully presented, your program was a great way for us to conclude the year!"
—Carol Toussaint, Chair, Vantage Point
"I just wanted to tell you how fabulous I thought your presentation at the Mahler Foundation was. It made the whole day! What you shared has already gotten me to start thinking in a different way—and I really enjoy that."
—Barbara L. Cohen, PsyD, Clinical Psychology, Clinical Neuropsychology.
From attendees at the Wisconsin Association of Justice Women's Caucus Seminar:

"I found the amygdala, mirror-neurons, and multitasking info very interesting. Great presentation!"

"I very much enjoyed your talk—Thank you. I thought the mirroring information was especially intriguing."

"Fascinating and helpful — thanks!"

"I wasn't aware of the mirror neurons. I've never liked horror movies and now I don't feel like a big baby because of it."

"The presentation was very good, and I learned a lot. I will use what I learned to increase my productivity and creativity and to improve my memory. Thank you."

"Very nice presentation. It is a presentation needed in the legal field."

"Great talk and confirmed a lot of what I thought about need to avoid multitasking. I especially liked the information about the research of the brain."

"Presentation was very insightful. Forced us to think about things that seem like they should be obvious but that we never really think about."